Michigan Almanac
A balanced and factual picture of all facets of the
University of Michigan-Ann Arbor campus.
The Michigan Almanac provides a consolidated source of data and commentary covering all aspects and major activities of the U-M Ann Arbor campus. More than a factbook, the Michigan Almanac serves many purposes and has many audiences.
If you don't find what you are looking for, contact us by email at michigan.almanac@umich.edu
---
Click the blue bar to show links to each chapter.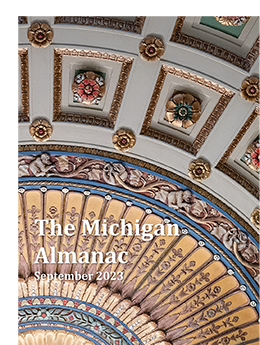 Michigan Almanac, 19th Edition (September 2023)

Table of Contents & Introduction
Ch. 1 – Overview of the University
Ch. 2 – Undergraduate Students: Admissions & Enrollment
Ch. 3 – Undergraduate Students: Affordability
Ch. 4 – Undergraduate Student Success
Ch. 5 – Graduate Academic & Professional Students
Ch. 6 – Faculty & Staff
Ch. 7 – Diversity
Ch. 8 – Teaching & Learning
Ch. 9 – Research & Technology Transfer
Ch. 10 – Finances & Fundraising
Ch. 11 – Space & Sustainability
Ch. 12 – Academic & Reputation Rankings
Appendices
The first edition of the Almanac was published in January 2013.
Questions? Send email to michigan.almanac@umich.edu
---
Looking for a specific report or data type? Try the search field at the upper right above, or send a message to obpcontact@umich.edu.