Campus Safety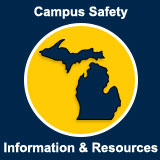 2023-24 Report
Mandated reporting per Section 241A of the State of Michigan Higher Education Appropriations Bill.
Campus safety information and resources mandate [PDF]
(Excerpt from the State School Aid Act of 1979)
Click a blue bar to show information and links to resources in each category.
(2)(A) Emergency Contact Numbers

U-M Division of Public Safety & Security (DPSS.umich.edu)
1239 Kipke Drive, Ann Arbor, MI 48109-1002
(734) 763-1131
Email: dpss-safety-security@umich.edu
Hours: 24 / 7 / 365

Police – Call 911
Fire – Call 911
Medical Care – Call 911
Mental Health – (734) 996-4747

Emergency Blue Light Phones
(map of locations on and near the Ann Arbor campus)
Register to receive Emergency Alerts by text message, voice message, or email.
(2)(B) Title IX offices

Equity, Civil Rights, and Title IX Office (ecrt.umich.edu)
Formerly Office of Institutional Equity
(Title IX Coordinator)
2072 Administrative Services Building, 1009 Greene Street
Ph: 734-763-0253
TTY: 734-647-1388
Email: ecrtoffice@umich.edu
Hours: 8-5, M-F, except during University holidays and season days
(2)(C) Safety and Security Services
(2)(D) Policies Applicable to Minors on University Property
(2)(E) Resources for Survivors of Sexual Assault or Abuse
(2)(F) State of Michigan Resources about Campus Sexual Assault
(2)(G) Campus Security Policies and Crime Statistics
Looking for a specific report or data type? Try the search field at the upper right above, or send a message to obpcontact@umich.edu.