Surveys & Research

The Institutional Research team supports the data collection and analyses of several key, comprehensive campus surveys. These surveys measure student perception of the U-M experience and help contextualize and inform university decision-making.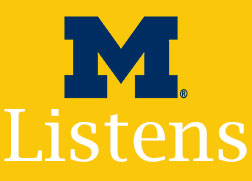 U-M Asks You (UMAY)
An annual survey of enrolled undergraduates conducted during the Winter term along with other highly-ranked research universities in order to broaden our understanding of the undergraduate experience.
Engaged Learning Census
A survey of senior undergraduates during their last year prior to graduation to learn about their educational experience at the U-M.
ASSET Research Group
The Analytics for Student Success and Equity Transformation (ASSET) group at the U-M investigates questions related to student success and equity.
Alumni Career Mobility
Summary of national survey of U-M alumni about several aspects of their careers following graduation.
Student Voting Rates Survey
Survey conducted in collaboration with Jonathan M. Tisch College of Citizenship and Public Service, Tufts University.
---
Looking for a specific report or data type? Try the search field at the upper right above, or send a message to obpcontact@umich.edu.